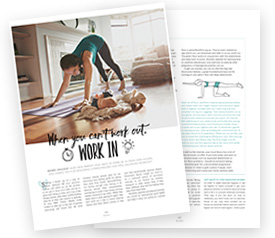 RENÉE VINCENT HELPS NEW PARENTS FIND WAYS TO EXERCISE IN THEIR OWN HOMES,AND SHARES TIPS FOR DESIGNING A PERSONALISED AND WELL-BALANCED WORKOUT.
Starting a family can be a time of great upheaval. All your previous routines and habits go out the window as you get to know your baby and get to grips with being on duty 24/7. One of the things parents often have trouble finding time for in their new routine is exercise.
A 2014 BMC Public Health study looked at what got in the way of parents exercising, and found that the most
common reasons parents gave for not exercising were feeling guilty for taking time away from family responsibilities, not having enough time, having to fit exercise around other commitments, and having to work. I hear mums voicing similar concerns at my clinic. While they really want to start getting fit again, they can't work out a way to match exercise classes with their baby's routine, or they
can't find child-friendly exercise classes. Sometimes they're simply too tired to do a sustained period of structured exercise or are limited by weather, transport or other issues. Even if they have childcare, they feel bad taking time away from their baby.
Click here to download and read the article (pdf)