Renee Vincent
Email: rvincent@totalmums.co.nz
Physiotherapist BHSc (Auckland)
MHSc (First Class Honours)
Post Graduate Diploma (Occupational Practice)
Member of Special Interest Group Pelvic, Women's and Men's Health
MPNZ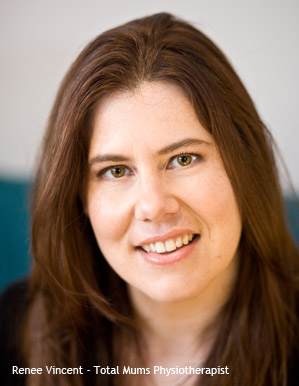 Renee is a musculoskeletal physiotherapist with more than 20 years' experience and specialist training in obstetric physiotherapy.
Her passion for helping mothers with their physical wellbeing led her to do her Master's research project on the risk factors for injury related to the childcare work that mothers do. She graduated with First Class Honours in 2008 and her research has been published in an international physiotherapy journal.
Renee went on to do special training in obstetric physiotherapy at Curtin University in Perth and has been working with pregnant and postnatal women since 2010. As well as her special interest in women's health, Renee believes in an integrated approach to treating the body, looking to restore optimal movement function and loading which will better result in resolution of pain and symptoms. She has also studied integrated dry needling, which is an acupuncture approach that uses needles to change the tension and function of musculoskeletal structures in the body.
This allows her to treat the whole body in a more efficient and effective manner. Always enthusiastic about sharing knowledge that will help mums stay at their best, Renee has also been writing fitness and physiotherapy related articles for the award-winning Oh Baby! magazine since 2014.
A mum of a very busy boy, Renee enjoys spending time with her friends and family, and outdoor activities. She loves travelling and speaks both French and Italian.
Renee has also written and operated the surtitles for Opera New Zealand since 1993.