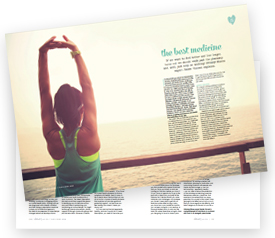 In the Winter OHbaby! Renee writes about Exercise during pregnancy and why it is the best medicine.
If a friend told you about an inexpensive wonder drug that adds years to your life, prevents and treats dozens of diseases and even improves your quality of life, I'm sure you would be keen to know more about it. You might wonder what the catch is, only to be amazed to find out that this drug has very few negative side effects when taken in the correct dose.
It might be hard to believe that this wonder drug has been shown to help prevent type 2 diabetes, osteoporosis and some cancers (colon, prostate, and breast). It can actually treat type 2 diabetes and some blood lipid disorders, and help prevent and treat heart disease, stroke, high blood pressure, and obesity and its associated problems.
And it can even delay the effects of ageing and improve your health and wellbeing, at any age.
But when I tell you that the wonder drug I'm talking about is in fact exercise, you may well be disappointed. You might feel like you have heard it all before. Those of us who are less inclined to be active easily overlook the immediate benefts of exercise – such as improved mental and physical wellbeing – and think more of exercise as something we have to do to help us prevent diseases that we fnd it hard to imagine ever having.
This, in turn, means that we allow ourselves to be put off by obstacles (eg I'm too busy, too tired, I don't have childcare) and thus fail to get the World Health Organization's recommended 300 minutes of exercise per week.
Click here to download and read the article (pdf)